2022 has been an eventful year here at HOPE thru Navigation. In addition to the regular programming and services we offer, we organize several signature events and pop-up events throughout the year. During the autumn season we have the JABS Retreat 4 Resilient Justice, HeArt & Soul of HOPE Art Hop, Walk 4 the Voiceless, and JABS Club had their first JABSpreneurs Pop-Up Shop. This fall we also participated in several community centered events such as Project Connect and Community Healing Center's Coming Together Conference.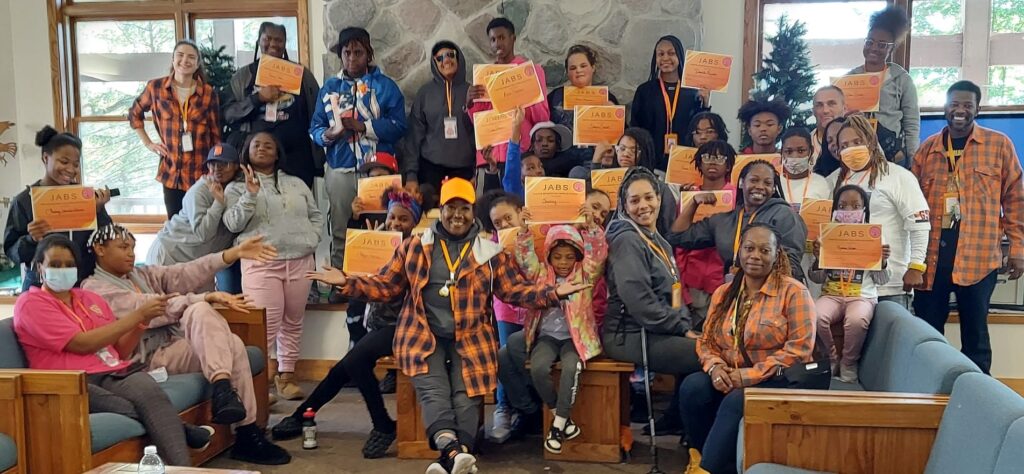 The 2nd Annual Retreat 4 Resilient Justice at Pretty Lake Camp took place from October 7-9. This retreat is focused on empowering youth impacted by social justice inequities. This year's retreat was a huge success with approximately 40 youth staying for the weekend. Friday night included a candid conversation with Dominique Whittaker "Mista Man" from Alotah Entertainment and a movie premiere. Michael Wilder and Yafinceio Harris from Peace During War opened up on Saturday morning, followed by Kaliyah, daughter of Elijah Roberson. Books from Kalamazoo Public Mobile Library lined the tables for the LIT (Leaders In Training) Lunch Hour. After lunch were the breakout sessions with Public Media Network, ODDS, Gerald King with Artists of Color, and artist Shaquona Espinoza, followed by the TRHT Gun Violence Prevention Network listening session with Jennifer Heymoss. The youth spent the rest of Saturday afternoon playing games, making slime, and doing team building activities before participating in the Let it Burn Ceremony with Mista Man. The energy leveled up for the LIT (Leaders In Training) Launch Party with DJ Conscious and Vibin' Selfie Room. The Embrace the Call brunch was on Sunday morning and featured Johnnie Berry and Jeff Fry from Str8 Motivation. Rick Omilian and Jennifer Coyle from Moms Demand Action closed the retreat with the Soul Box Ceremony, where youth attendees created a box out of a piece of paper to remember loved ones they have lost to gun violence.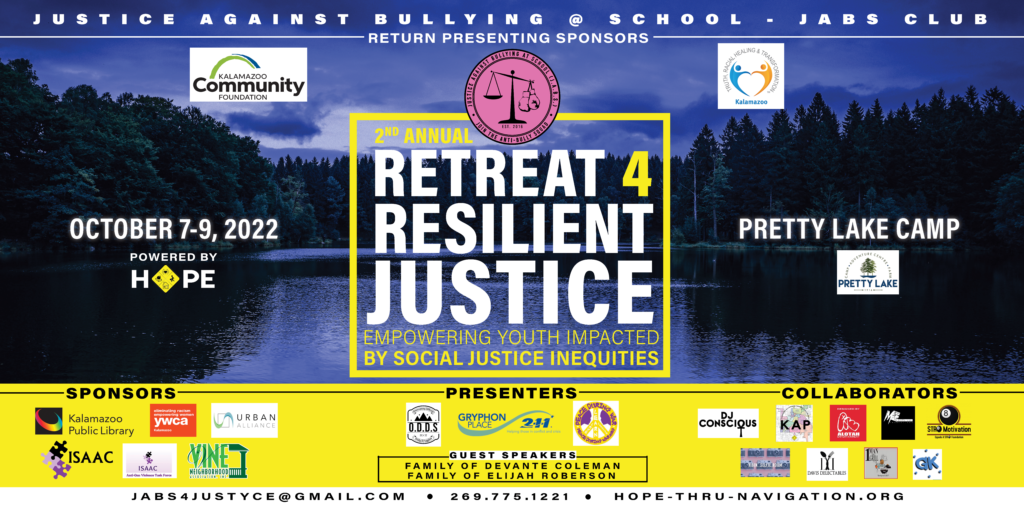 October 7th was the HeART & Soul of HOPE Art Hop event which is held at the Vine Neighborhood Association annually the 1st Friday in October. This year's event featured artwork from JABS Club members including paintings by Kiersten Schuler and Javarious Coleman, delicious signature fried oreos made by Jaide Calvert, as well as staff representations by Shaina McLain of beautiful handmade jewelry, and acrylic art pieces by MightyStream Anders.
Project Connect took place at the Kalamazoo County Expo Center on October 12th and offered opportunities for participants to get connected with amazing local resources around housing, employment, education, healthcare, and more. HOPE thru Navigation collaborated at this event with a table and spent time connecting with attendees, sharing resources and information about the services we offer at our organization.
HOPE thru Navigation was also a part of Community Healing Center's Coming Together Conference on October 25-26. The focus of this conference is to fight stigma around Substance Use Disorders (SUD) by enhancing knowledge on SUDs and recovery resources. Keynote speaker Ryan Hampton spoke at the Dalton Center evening reception and kicked off the conference the following morning at the Fetzer Center. The conference was filled with great learning opportunities throughout the day with many breakout sessions, keynote speakers, and resource tables. HOPE thru Navigation Staff participated by offering resources at our table and connecting with attendees about the services we offer at our organization. 
The 7th Annual Walk 4 the Voiceless is a signature event of our FASAAD initiative (Families Against Sexual Assault and Drugs). It takes place in the Northside Neighborhood every year on the last Saturday of October. This event is a walk to honor loved ones lost to domestic violence, overdose, or gun violence and raise awareness in the community. This year's event took place on October 29th at 447 North Street, which the future home of the Tiny Houses of HOPE Pilot. HOPE offered free cookies and coffee, Narcan kits, masks, sanitizers, and resources to event participants and folks passing through the area. Participants began walking on North Street, turning on Burdick Street to stop at Tammy Kelley's past residence. Tammy, family of several HOPE staff and JABS members, was taken too soon by a fentanyl overdose. She is honored at the walk every year, this year being on her birthday. After taking a moment of silence for Tammy, space was opened up for anyone wanting to share about who they're walking for and why. Continuing to Paterson Street and then back around on Westnedge Avenue, the group then stopped on Ada Street to take a moment of silence for Brandon Kelley, who was taken by gun violence in 2020. Throughout the walk, JABS Club members led the group, chanting "Who are we? The Voice!", "Who do we walk for? The Voiceless!", and "Up with HOPE! Down with dope!". This event was covered by Public Media Network in an episode of Community in Focus. Check out the video here: https://www.publicmedianet.org/?modal=211,episode,219787
On November 4th, JABS Club collaborated with Read and Write Kalamazoo at their first JABSpreneurs Pop-Up Shop hosted by the RAWK Youth Advisory Council. This event featured amazing artwork by Kiersten Schuler and Javarious Coleman, waist beads by Justyce Calvert, and delicious signature fried oreos by Jaide Calvert. Check out the next Youth Entrepreneur Pop-Up Shop coming up on December 2nd! For more information, visit the Facebook event page here: https://tinyurl.com/4najdvme
To stay updated on our events and programming throughout the year, check out our event calendar on our website and follow us on Facebook at Helping Other People Exceed (HOPE) thru Navigation and JABS-Justice Against Bullying @ School.