For Immediate Release!
Our 6th Annual YOUth Connect (YC6) event YOUKANDA – "Collaboration is Our Super Power!" went above and beyond on a whole new level! By leaps and bounds, we stood united and WE WANT TO SAY THANK YOU to everyone who believed in Our Mission of Equity and Leveling the Playing Field for school-aged youth by coming onboard to support this special youth-focused event. We had an amazing turnout and our hearts are full of gratitude!
Special Thanks to Our Youth Connect Return Presenting Sponsors:
Kalamazoo Community Foundation and TRHT Kalamazoo (Truth, Racial Healing & Transformation) due to their heroic, intentional focus on Equity & Education we could not be more proud to have their Sponsorship at the Presenting Level for the 3rd year in a row! 
Our Sponsors:
Communities in Schools, ISAAC Kalamazoo, The Kalamazoo Promise, Lewis Walker Institute, OutFront Kalamazoo, YWCA Kalamazoo. Thank you for your continued support!
Our Partners & Collaborators:
Douglass Community Association and their Team under the leadership of Stacey Randolph -Ledbetter! Thanks for being our YC6 Venue Host. Special thanks to Gryphon Place, ISAAC Kalamazoo, Kalamazoo Alliance to Prevent (KAP) Gun Violence, Northside Association for Community Development (NACD), and Vine Neighborhood Association. We are so very grateful to work shoulder to shoulder with you as our Partners serving the Community we Love to Live.
A Hero's thanks to Pat Davis of Davis Delectables! You never disappoint! The food was delectable, delicious, and powerful! Melrose Hensley who is always a big hit with the kids and adults alike with the popcorn & cotton candy!
Thank you DJ Boogie – your youthful energy, knowledge, and capacity for keeping our event lit is deeply appreciated. Thanks to Vibin' Selfie Room – the 360 Photo Booth was everything! Thanks to the JABS Crew Event Ambassadors for the VR Booth, face painting, henna, slime, and more. A special thank you to a friend, donor, and faithful volunteer Donna Wilinski for always showing up for the kids and providing her superb face-painting skills. We are so grateful for your continued support!

Bill Play: Gift Card Donations

Faith Temple Church: Gift Cards

Exclusive Barber-Dontray Hemphill

HMG Planning & Navigation, LLC: Jordans & Dunks

KD Sales: Balloon Displays

Polar Bear-Donations

Self-Made Entrepreneur/Flex Yo Grill-JD the Jeweler



MARVELous Thanks to Our Table Connectors:
ASK Family Services, BLOCKS Club, Charlie's Place, Community Healing Center – STREET, Douglas Community Association, GVI, ISAAC Anti-Gun Violence Task Force, Kalamazoo Department of Public Safety, Kalamazoo Nonviolent Opponents of War (KNOW), New Connections, Northside Association for Community Development, PFC/Farmers Market, Prevention Works, Read and Write Kalamazoo (RAWK), and Workforce Development Institute.
S/O to 95.5/1660 The Touch's Double A (Angela Anderson) for having HOPEtN on her show Speak On It…(The interview starts at 27.52 minutes) to promote and market YC6!!
Thank you, Public Media Network, for coming through to provide media coverage for YC6!
HOPE Hero's Thanks to Our Volunteers:
Last but not least, we want to thank each and every volunteer who helped make this event seamless. We are very grateful for your spirit of community collaboration. Thank you for giving back by sharing your time and talents!
Event Feedback:
We want to hear from you! Please share your event feedback here by clicking the button below.
This ensures that our collaborative superpowers are magnified for our next Youth Connect Spring Break Event. We are already seeing through concrete and steel walls with our Youth Connect 7 "The Art of Equity"!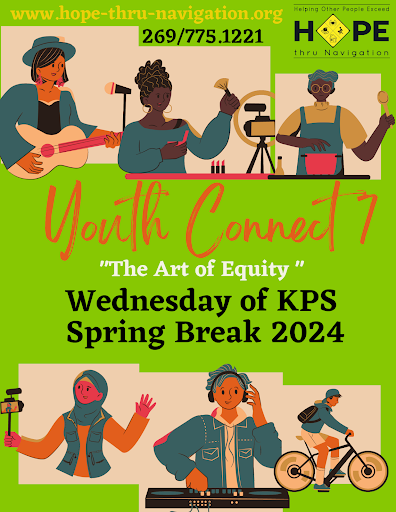 #YC6 #youthconnect6 #HOPEHero
#YOUKANDA #POWeredbyHOPE
#EquityBOSS #EquityTHUG #HOPEBoss #LevelingthePlayingField
#CollaborationIsOurSuperPower